Let's take a little thought experiment:I now call you a color and you tell me in the same breath a certain association that comes to your mind immediately.For when we think of colors, we always associate with her.These can be places, experiences or emotions.And so colors can also determine our emotional position.This also applies to jewelry and accessories.Jewelery in certain colors can create a good mood, express a certain feeling or cause other emotions.And although we consciously use colors, they also send signals that we unconsciously pick up and interpret.Whether we like it or not.
1. The effect of colors in jewelery
If you wear jewelery, choose it in at least half of all cases to match the look. This look shows what you like today or what mood you are in. Sometimes we unconsciously grasp for a certain color, sometimes well thought out. So you can put a wrong track with colors.
Not all colors are interpreted in the same way.This can be different from person to person.Also culturally one is marked.Nature uses colors for signal effects.And sometimes, in a language, a color is also synonymous with a sensation."Blue" (blue) is also sad in English.The Russian word "red" and "beautiful".I have summarized 3 color families and summarized their meaning, as it is common in our latitudes.
2. Effect of jewelry in white, gray and black
Black is a dominant color in fashion. Black also enjoys great popularity in jewelery. This color is strong and brave. At the same time, jewelry in black is very solemn and bears witness to a certain dignity. However, one should not exaggerate, otherwise a gloomy impression arises. Because, last but not least, black is also a color of grief.
White, on the other hand, is innocent and pure, and at the same time modest. Still, white has a very noble touch, which also very easily reflected in the jewelry. In other cultures, white is what symbolizes black to us: a color of grief.
Gray stands as a transition from black to white and vice versa.Some do not even see gray as their own color.Jewelery in gray can create a fascinating effect.Not quite pure, not completely transparent jewelry , always under a foggy veil.And so very mysterious.
3. Effect of jewelry in pink, red, orange and yellow
All these colors bear warmth. Yellow is considered intuitive, awake and wise. Too much use, however, it can also be interpreted as envy. So always pay attention to when you wear yellow.
Jewelry in Orange is considered to be cheerful and optimistic. It should also show a strong creativity. In addition, orange is also used as a signal color, which indicates something. And so one thing is certain: anyone who wears jewelry in orange is definitely seen.
Jewelry in red is considered impulsive, exciting and lively. It was long the color of the rich and powerful, because its manufacture was expensive.Rot is the color of seduction, therefore, jewelry in red can also send very special signals. This can also be a warning, as it is often prefigured in nature.
The same applies to jewelry in pink.This places emphasis on extravagance and self-awareness.At the same time, Pink is slightly younger than Red.
4. Effect of jewelry in green, turquoise, blue and violet
In this color family, the colors which are often referred to as favorite colors are often found. All have something fresh, cool and soothing in themselves.
Jewelry in violet is imaginative, mystical and also original at Jibin123.
With jewelery in blue one shows that one is balanced. You are satisfied and everything runs smoothly.
Jewelery in turquoise is particularly popular in summer. Finally, it reminds us of the sea in bright sunshine. Perhaps, however, jewelery in turquoise is also so popular, because it should have a soothing and relaxing effect, which has an inspiring effect.
This is easy to assert even from jewelry in green.Anyone wearing jewelry in green is considered to be helpful and tolerant.In addition, he is supposed to have an incredibly calming effect on the wearer as well as on his surroundings.
Green before envy but nobody needs to be.You still lack a little color in the little jewelry box?Or do you want to conjure up a good mood with certain colors?Then times at schmuckladen.de through the assortment.This will certainly lift your mood.By the way, colorful jewelery is a joyous and sunny feeling.Good prospects so, to wear his jewelery synonymous once mixed colorful.
Gallery
Pin by CottonTale Designs on Baby Bedding Articles and …
Source: pinterest.com
How Colors Affect Your Body
Source: www.herbs-info.com
How to Change your Mood with Colors
Source: www.fabhow.com
Color Effect On Mood
Source: mfidn.com
Feeling Blue? How Colour Affects Your Mood
Source: www.pinterest.com
Electricsuppliesonline.com: Can color affect my mood?
Source: electricsuppliesonline.blogspot.com
The Colors of Interior Design
Source: visual.ly
Business Shirts Does Colour Your Shirt Affect Mood
Source: eemcnow.net
The Meaning of Colors in Mood Rings
Source: jewelry.lovetoknow.com
How Colors Affect Your Body
Source: www.herbs-info.com
Selecting The Right Color That Will Affect Positive Mood …
Source: home4lifenow.com
How Colors Affect Emotions
Source: greatstatescorp.com
1000+ images about neat info on Pinterest
Source: www.pinterest.com
How Can Warm Colors Affect Mood
Source: noordinaryhome.com
Colors Affect Mood
Source: noordinaryhome.com
Mood Rings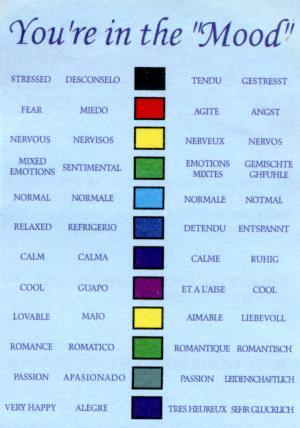 Source: en.paperblog.com
Colour Therapy There have been many studies with color and …
Source: www.pinterest.com
HOW COLOR CAN AFFECT YOUR MOOD
Source: activerain.com
mood ring color meanings
Source: www.pinterest.com
How Colors Affect Our Mood And Mind
Source: www.europaplay.com